Websites & Apps
Most first impressions are online today—so what's your website say about your business?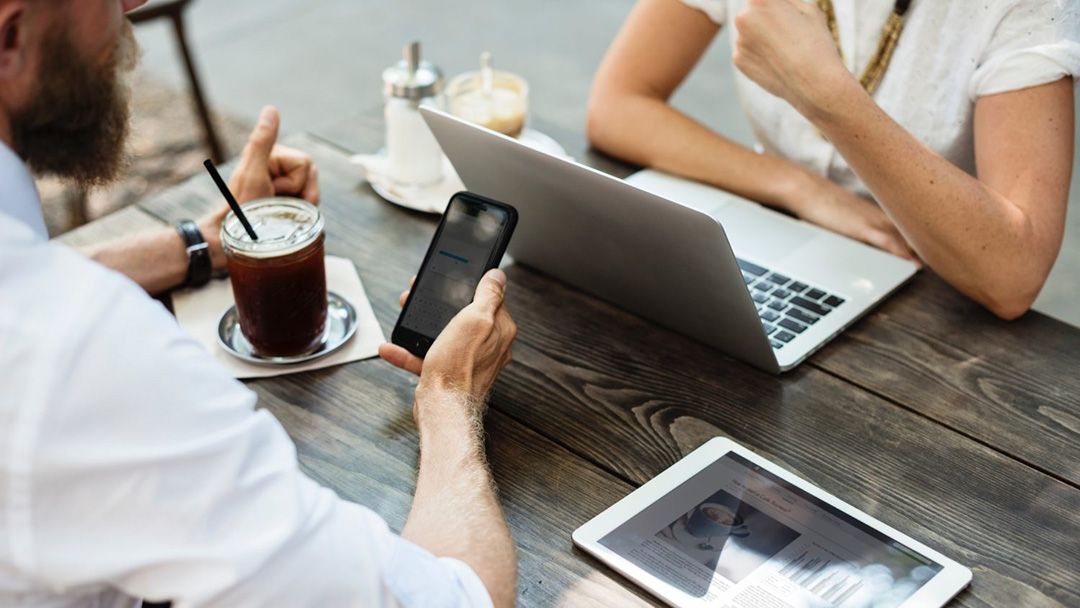 What is a mobile-friendly website?
First, let's start with what a website is. Quick note – if you are reading this, you're on one. A website is simply defined as an online location that contains more than one page of information. Additionally, mobile-friendly sites are designed to be responsive to any display size, i.e., desktop, tablet, and smartphones. The overall purpose of each is to create a pleasant and engaging user experience on any device.
What is a web application?
A web app is a user-server program that delivers content directly to users through a browser interface. Sound a little complicated? Well, think of a web application (native app) as a bookmark that takes users directly to specific content and lives directly on the user's device.
Why does your online content need to be mobile-ready?
The mandate behind mobile responsive websites and applications is the popularity of smart devices and mobile internet, making the online experience on-the-go. Over 50% of online users surf the web on mobile devices, and that statistic has consistently grown every year since the introduction of smartphones and tablets.
Being online is not a "sit down at my desk" kind of thing anymore. Users want to be able to find their desired information on-the-go, quickly and easily. And, if they can't, chances of them engaging with your content are slim. Having a website just isn't enough anymore — you must provide a seamless experience for all users, on both desktop and mobile.
What does having a mobile-responsive website affect?
User Experience
The number one factor for user engagement is the experience they have while visiting your site. With over 50% of online traffic being through a mobile device, it is imperative to make the experience enjoyable for everyone, no matter the device they're using to surf.
SEO (Being found on Google)
Having a mobile-responsive website is one of the leading factors for Google (search engines) when determining where your site ranks in organic searching (free portion of search engines). Sites that are not fully functional or responsive have a lower S.E.R. (search engine ranking) and are less likely to be found on Google.
Households are ditching computers (Phone and Tablet only)
Depending on your audience, you may be missing more than 50% of your traffic. It's becoming a common trend that US households are no longer buying computers, but rather moving towards full-featured mobile devices, using only tablets and smartphones.
Credibility
One of the most important aspects of appearing as a fully credible business, whether you are or not, is having a fully functional website that works on mobile and desktop.
DVS Web & Application Design Services
Do you think that it's time to develop a fully responsive website or application? Well, DVS is here to help! Our web development team consists of professional web developers and designers. Each of them has extensive experience and knowledge to build you a site that connects you with your audience, on every platform. You see, we design with the user experience, SEO, and mobile responsiveness in mind, and the overall focus is to bring the information you desire to your audience. To do so, we have developed the following process.
The DVS Web Development Process
Keep in mind, we meet with you nearly every step of the way, making sure our efforts are in line with your objectives, wishes, and goals.
1

Discovery

We start by listening, sitting down with you to discuss what it is that you want your website or app to accomplish and who you want to reach. The primary objective at the start is to identify your audience, goals, needed content or information.
2

Site Map

Next, we design a basic outline of what your app or site will look like, mapping out the pages and primary navigation.
3

Wireframe

Here, we start to look at the structural levels. We determine the functionality of each page and develop the user experience throughout the site or app.
4

Content Development

Now that we know what pages we need, we create your content. From writing copy, producing video, or choosing images, we nail down every piece of material your website or app will contain
5

Design

After we lay down the structure and content, it's time to get a little artistic. We craft the look and feel of your site or app, molding it around your content. Overall, we ensure that it is entirely reflective of your brand and that we have sufficiently defined the user experience and mood (color pallets, typefaces, functionality, animations, etc.).
6

Development

Now we get technical. We take our design and build it be hosted online using various languages and scripting tools to make it look and function exactly as we planned.
7

Test

We go through every inch of your site or app, ensuring that its functionality is as planned, and making sure to eliminate any bugs or bumps we encounter.
8

Launch

Once we know that everything is fully functional, it's launch day. We move your site or to the desired domain and hosting services (app store if applicable), making it fully accessible to you and your audience.
9

Test Again

We walk through the site or app one more time, making sure that the move did not damage any functionality.
Partner with DVS!
If you want to design something new or update an old website or application, partner with DVS today.